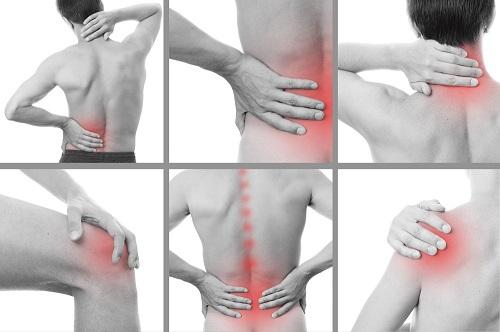 MUSCLE PAIN:
Myalgia or the pain in muscles is extremely common among people these days. Muscle pain is generally the outcome of overstressed muscles of the body. However, some of the specific causes of muscle pain are:
Muscle tension in the specific body parts
Overuse of muscles to performing physical activities
During a strenuous physical workout, muscle might get injured
Hypokalemia or the low potassium content in the blood
Improper functioning of the thyroid gland
Fibromyalgia
Any infections caused by bacteria resulting in flu, polio, etc.
Sudden abstinence from the use of drugs like cocaine, statins, or ACE inhibitors
Some of the tips to avoid the soreness of muscles:
To avoid the soreness of muscles caused by physical activities, there are specific things that you can take care of. Some of the tips are:
Make sure to stretch properly before and after performing any strenuous physical activity
Keep yourself completely hydrated
Maintain a regular exercising routine to keep your muscle activated
Along with some of these measures you may use Reumacon Pain Oil to get relieved from Pain
JOINT PAIN:
The most common cause of joint pain in the body is due to Arthritis. It is of two types –Rheumatoid Arthritis and Osteoarthritis. However, there are other causes of joint pain too. Some of these causes are:
Inflammation in the pads surrounding the joints
Gout
Chondromalacia of the patella bone
Sarcoidosis
Rickets
Injury in the joints
Infectious diseases like influenza, mumps, dengue, and hepatitis
Inflammation of the tendons
Some of the precautions to avoid joint pain:
While arthritis can be a chronic condition which cannot be eliminated by any means, there are certain precautions that you can take to manage the excessive pain:
Try to manage your weight within a range to avoid overstressing of the joints
Stretch precisely before performing any strenuous exercise
Try and remain physically active by performing physical activities on a daily basis
HAPDCO brings for you some of the products that can be used conveniently to get relief from muscle and joint pain without developing any further side effects.
REUMACON OIL: Reumatone oil is effective in rheumatic pain, arthritis, sciatica, joint pain, muscular pain & sprain.
RELAXOMUV GEL: This gel is effective in back pain, joint pains, inflammation, sprains, myositis, fibrositis and sciatica.
REUMATONE CAPSULE: This capsule comprises selected herbs which has anti-inflammatory & wound healing properties which also helps in relieving joint & neck stiffness by improving blood circulation. It works internally and is effective against joint pain, knee pain, back pain, muscular pain & pain associated with arthritis, gout or rheumatism.
RELAXOMUV BALM: This soothing balm relieves nasal and chest congestion. Its counterirritant effects relieve headaches and body aches associated with the common cold.